Port scanners are a crucial tool in the investigation of any remote or local network's security.
They are used by cybersecurity experts and network admins in order to deduce what port is being used by what app. This helps them figure out which programs are malicious and what might be causing network malfunctions.
They also have a purpose in figuring out how good your security policies are.
With the field of cybersecurity booming in the last few years, there are more and more port scanners swamping the market. In this article, we'll help you wade through the dirt in order to find the diamonds in the rough.
Here's Our List of The Top Port Scanners for Windows and Linux:
SolarWinds Open Port Scanner – FREE TRIAL The best port scanner on the market. It is made by a reputable company in the area of network security. Furthermore, it is cram-packed with useful features all nicely packed up in an intuitive and easy-to-use interface. The tool is easily scalable, so a network of any size can make use of it. Access the 14-day free trial.
ManageEngine Vulnerability Manager Plus – FREE TRIAL A flexible platform that helps both small and large networks identify, categorize, and patch vulnerabilities. Get the 30-day free trial.
ManageEngine OpUtils – FREE TRIAL This package provides an IP address manager, a switch port mapper, and an endpoint port scanner, giving it the ability to check on all of the addressing issues that your network could have. Available for Windows Server, Linux, and AWS. Start a 30-day free trial.
Nmap One of the more advanced tools on the list. Free and open-source- great for large networks with complex needs.
Angry IP Scanner The most simple port scanner on this list. If you don't have a dedicated network professional, or your needs simply aren't that complex, this is the tool for you.
Advanced IP Scanner LAN-network exclusive port scanner loved for its ease of use and simplicity.
NetCat A complex tool supporting a variety of operating systems with optional RFC854 telnet codes.
LanSweeper IP Scanner A simple and effective tool with an excellent user interface, a paid version with more features is available.
Slitheris Network Discovery Premium, agentless tool which makes sure to give you as much information as you need at all times.
MyLanViewer Network/IP Scanner A Windows-exclusive multi-tool, giving you access to a variety of different ways to monitor your network.
Why Do I Need A Port Scanner?
A port scanner is a program that checks the ports in your network for one of three statuses: Closed, filtered, or open.
This is extremely valuable when it comes to diagnosing network issues. Malicious agents have been known to use port scanners on occasion in order to find points of access on your network. Furthermore, they can also find out whether you've got a firewall, CPN, or proxy server as well. Because of this, you'll need to exercise some caution.
The easiest way to prevent your port scanners from being used by attackers is to run scans before there's any chance of attack. By detecting and patching up and vulnerabilities, you ensure attackers won't be able to use your port scanner to find out more about your network. Furthermore, you should be regularly auditing your open ports in order to detect if any of them are being used maliciously.
By doing this, you protect yourself from a variety of attacks. Scanning during or after an attack can also bring you valuable information so you can ensure it doesn't happen again.
The Top Port Scanners
Read on to take a closer look at every one of these tools, and how they set themselves apart from the crowd.
SolarWinds Open Port Scanner comes with the Engineer's Toolset and has shown itself to be a cut above the rest. With SolarWinds trusted track record manufacturing software monitoring tools, this port scanner is extremely efficient, and will flawlessly come up with a comprehensive list of closed, filtered, and open ports for every IP address in your network.
Main Features:
You can save any scan configuration to be loaded later. This means you'll have access to it without needing to change any of the configuration settings.
You can write up a batch script to be executed at any time.
The interface is sleek and clever, making using this tool a breeze.
You can troubleshoot by using a simple, CMD-like interface.
Scans through this tool can be paused or canceled at any time, meaning if you really need to access a port currently scanned, you can stop the scan immediately.
Your OS will be determined while scanning, as long as it's one of the supported installations of Windows.
Not only is this port scanner completely free, but it also uses advanced adaptive timing behavior in order to expedite its scan time. Furthermore, once it is done scanning you can have the results exported into an XML, CSV, or XLSX format.
The SolarWinds Open Port Scanner is extremely user-friendly to use and to start scanning all you need to do is configure the scan profile. The way you do this is by entering the necessary information like IP range or a hostname. It can also be set up so that it looks for a layer 4 port.
The main downside of the SolarWinds Open Port Scanner, if it can be called that, is that it supports a pretty narrow range of exclusively Windows installations. This means that if you're sporting Linux devices, the SolarWinds Open Port Scanner won't be of much help. You can scan available IP addresses and their corresponding TCP and UDP ports to identify network vulnerabilities!
Operating Systems Supported:
Windows 8
Windows 8.1
Windows 10
Windows Server 2012 R2
Windows Server 2016
Pros:
Scan switch ports
IP address usage scan
Check on computer TCP and UDP ports
Identify open ports
Also provides SNMP insights
Cons:
Only available for Windows
Get started with a 14-day free trial.
EDITOR'S CHOICE
SolarWinds Open Port Scanner is our top pick for a port scanner for Windows because it provides an on-demand scan of a single IP address, a range of addresses, or the whole network. With each discovered device, you can get a scan of all ports, a range, or a list of non-sequential port numbers. The tool is part of the Engineer's Toolset, which provides a range of systems for monitoring networks, including functions using the Simple Network Management Protocol. You can also check on device availability and connection quality.
Download: Get a 14-day free trial
Official Site: https://www.solarwinds.com/engineers-toolset/registration
OS: Windows Server
ManageEngine Vulnerability Manager Plus is a software solution that helps organizations identify and fix vulnerabilities in their networks and devices, regardless of the operating system they use. It provides comprehensive coverage, constant visibility, thorough assessment, and integrated remediation of threats and vulnerabilities from a single console.
Key Features
Holistic vulnerability discovery, management, and remediation
Offers vulnerability classification and prioritization
Integrates well into enterprise networks and existing cyber security teams
This end-to-end vulnerability management tool is suitable for use on local networks, DMZ networks, remote locations, and on the move, making it a suitable solution for businesses with a distributed workforce.
Vulnerability Manager Plus can help businesses ensure that their employees have safe working conditions by proactively identifying and addressing vulnerabilities in their networks and devices. It includes step-by-step guidance on how to perform vulnerability management in an enterprise setting.
Pros:
Continuous scanning and patching throughout the device lifecycle
Robust reporting to show improvements after remediation
Flexibility to run on Windows, Linux, and Mac
Backend threat intelligence that is constantly updated with the latest threats and vulnerabilities
Supports a free version for small businesses
Cons:
Vulnerability Manager Plus can take time to fully explore and utilize
You can start with a 30-day free trial.
ManageEngine Vulnerability Manager Plus Start a 30-day FREE Trial
ManageEngine OpUtils is a package of all of the tools a network manager needs in order to sort out addressing issues. This includes an IP Address Manager that can coordinate with your Microsoft DHCP and DNS servers. The package also includes a switch port mapper and an endpoint port scanner.
While the switch port scanner reports on all of the sockets on each switch that have cables plugged into them, the port scanner assesses the login TCP and UDP ports that are active on each of your endpoints. Closing ports that are not in use will enhance security.
Main Features:
Scans endpoints within a given IP address range
Can be set to scan ports on just one endpoint
DHCP manager and DNS resolver
Simultaneously checks for IP addresses in use and open ports
Allows for the range of ports in a scan to be limited
Identifies listening ports
Tightens network security
The Port Scanner is just one of the utilities in the OpUtils package. All of the tools in the bundle are accessed through a single console. So, although you can get individual tools elsewhere, such as a port scanner and a visual traceroute, the convenience of this package makes it a winner. The main reason anyone would buy the OpUtils system is for its IP Address Manager. You can address the OpUtils package with a 30-day free trial.
Supported operating systems: 
The OpUtils software can be installed on:
Windows
Windows Server
Linux
AWS
Pros:
A full package of system security weakness checks
Automated system sweeps
Continuous monitoring for TCP and UDP ports
Details on the daemon behind each port
Cons:
Only available for Windows Server
You can start with a 30-day free trial.
ManageEngine OpUtils Get a 30-day FREE Trial
Nmap refers to an open-source scanner that takes a rather peculiar approach to its task. This free tool will scan your network's device in order to build a "map" of them. This requires it to send out packets to the devices and analyze their responses.
While Nmap isn't very intuitive and certainly doesn't keep up with graphic design trends, it's still one of the most widely renowned port scanners.
Main Features:
It supports a variety of different techniques to map out devices.
It's capable of scanning TCP and UDP ports alike
It interacts with devices through scrips that use Lua and the Nmap Scripting Engine.
It's excellent in enterprise-size networks with thousands of devices
The tool can help you identify hosts on a network, in addition to listing out their open ports
It is open-source, meaning you can customize it however you see fit and ensure that it fits your needs
As one of the most widely used port scanners, it has a huge community working on improving it day in and day out
It supports pretty much any operating system you can think of
While Nmap is one of the most loved port scanners out there, that is not to say it is without weaknesses. Although pretty much any weakness of the tool could be compensated for by customizing it, its biggest weakness natively is the lack of any progress meter. This means that you won't have any indicator of when exactly your port scan is going to finish.
Operating Systems Supported:
Windows
Linux
Free BSD
OpenBSD
macOS
Solaris
Sun OS
HP-UX
Sun OS
And a variety of others
Pros:
Widely used on network security courses
A command line tool with many options
Can be used for penetration testing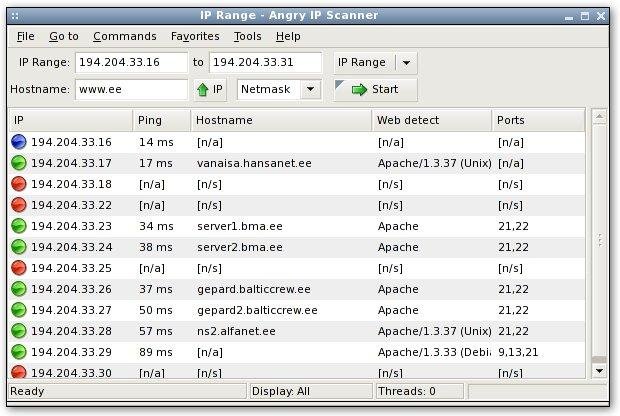 The Angry IP Scanner is a cross-network scanner famous for its efficiency and simplicity. The open-source tool is capable of saving all of your favorite IP ranges and hostnames without requiring an online sign-in. Being able to save all information locally can be a lifesaver if your network connectivity is disrupted.
Furthermore, the scanning of your web servers or an external IP can be done within its simple interface. Once you're done with it, you can quickly export the results into TXT, XML, IP-Port list, or CSV.
Main Features:
Angry IP Scanner is open-source, meaning you can easily customize it to fit your exact needs
You don't need to make an external account
There is little to no installation involved in making it operational
It boasts a simple and easy-to-use interface
It makes use of a multithreaded approach to scanning, every scanning thread is made for an individual IP address
With that being said, some might find that the tool is too simple. While the open-source nature of it helps with this, you might prefer something that comes with everything you need in-built.
Operating Systems Supported:
macOS
Windows 8 to 10
Most Linux distros
Pros:
Can be used on remote addresses across the internet as well as on a network
Tests the availability of IP addresses
Scans a limited number of ports
The Advanced IP Scanner is an excellent port scanner usually used to account for LAN networks. As another free port scanner, its main draw is its simplicity and user-friendliness. If you've just recently started up a business and are looking for a port scanner to use on your LAN network- the Advanced IP Scanner might just be the one for you.
Main Features:
You can access and control the tool remotely through Radmin and RDP
It's easy to access any shared folders within the network
The tool allows you to turn devices on and off remotely
There's almost no installation involved in setting it up
It's an easy tool to use, extremely suitable for beginners
It is available on Linux, Mac, and Windows
The main downsides of the Advanced IP Scanner are that it's hard to scale up to an enterprise-sized network and that it can only export results into the CSV format.
Operating Systems Supported:
Windows 10
Most Linux distros
macOS
Pros:
Records IP addresses in use
Shows MAC address and hostname
Remote Wake-on-LAN and switch off
Cons:
A limited number of ports per device

NetCat is a tool capable of reading and writing data throughout different connections by taking advantage of the TCP and IP protocols.
It's an excellent tool for more experienced networking experts, as it offers a variety of extensive and in-depth applications that will knock most other tools out of the water. With that being said, a smaller company has little use for advanced features like its hexdump capabilities or the buffered send mode.
Main Features:
A wide tool with built-in port scanning options
Has a tunneling mode capable of allowing special tunneling like UDP to TCP
It'll give you access to both inbound and outbound connections, as well as UDP and TCP ports
It has an abundance of options for advanced users, such as its buffered send mode or hexdump
The tool can be configured to use a locally configured network source access, or any local source port you have
It is capable of reading and executing command line input
It is packed with optional RFC854 telnet codes
By far the biggest downside of this tool is its interface. If you're someone that rolls their eyes every time they have to use a command line, then this is not the tool for you.
Operating Systems Supported:
DOS
Windows
Windows CE
Linux
macOS
And other UNIX-like operating systems
Pros:
A free tool for network technicians
Shows traffic to and from each port
Can send remote commands
Cons:
Only available as a command line tool
The LanSweeper IP scanner is one of the best network scanners for beginners. It'll use the information present about currently available active IP addresses to give you a detailed outlook of your network.
Its biggest perk is its user-friendly interface, rivaled only by the SolarWind Port Scanner. It's also very versatile when it comes to the protocols it uses, with the list containing the likes of HTTP, SSH, FTP, SNMP, and WMI.
Main Features:
Easily discovers scanned devices using their IP
It only takes a single click to rediscover a whole subnet
You can shut down devices remotely, in addition to a whole suite of other remote actions
The tool can scan through IP ranges on auto mode
Your network setup can be quickly uploaded through a CSV file
You can exclude certain devices from the scan
While the LanSweeper is a fully serviceable port scanner, its biggest downside is that the free version simply pales in comparison to the SolarWinds. Pretty much anything that it can do, the SolarWind can as well, in addition to them both having a similar interface quality.
The LanSweeper IP Scanner is free for a network with 100 or fewer devices, with 500 devices costing $495 per year, and anything more requiring contact with a support team. Although a network of that size might be better off with an advanced tool like Nmap.
Operating Systems Supported:
Pros:
Scans networks to discover IP addresses in use
Automated or on demand scanning
Discovered device details
Slitheris Network Discovery is an agentless network scanner. It can be quite an expensive piece of software, as anything past 50 devices will cost you. With that in mind, it does make that money worth your while with its assortment of advanced features.
Main Features:
It doesn't require credentials nor agents in order to collect information
The tool gives a lot of info about every device or app it scans
It's able to use an algorithm in order to determine the year of manufacturing for the device
It can recognize different types of devices through gathering a variety of attributes about each one of them, by comparing them to a device-type definition database
There is a portable version
It can determine whether SMBv1 or SMBv2 are enabled, and it allows you to disable SMBv1 at will.
The tool makes use of an ARP cache in order to find hidden devices
You can see all of the devices which have a GUI as well as access all of them through a browser interface
It has a great interface for a tool of its complexity
Now, the biggest downside of the Slitheris is obviously the cost. A network of 1000 devices will set you back over $2000. With that being said, if your company has the cash flow to invest in it, it is one of the best tools available for the job.
Its second weakness is that it is not easily scalable. The tool was made with large businesses in mind- and it shows. A small to medium business will likely never use most of the features it provides. Its narrow OS support also holds it back from taking a higher spot on this list.
Operating Systems Supported:
Pros:
Discovers devices on a network
Provides details of each discovered device
Free for up to 50 devices
The MyLanViewer Network/IP Scanner is a NetBIOS, LAN, and Network IP scanner made exclusively for Windows. It is quite a versatile tool, boasting a variety of functions that let you have almost complete control over what is on your network.
Main Features:
It is capable of controlling your network remotely, letting you shut down, reboot, hibernate, sleep, or WOL your devices
The tool ensures you find every IP and MAC address, as well as shared folders on a network
It'll monitor IP addresses on the network and show the states of the devices as they change
You can terminate user's sessions, disable access to folders, detect DHCP rogue servers, and a lot more.
The main drawbacks of the MyLanViewer are its narrow OS support and lack of specialization. There are many network monitoring tools out there that combine a lot of different areas into one. With that being said, the MyLanViewer doesn't combine enough of them for it to be your only network monitoring tool.
In the same vein, it boasts too many for it to be a simple and focused solution. It's not a bad tool by any means, however, its optimal use-cases are quite niche.
Operating System Support:
Windows 2003 to Windows 10
Pros:
Remote Wake-on-LAN, shutdown, and reboot
Discovers ll devices on a network
Provides details of each device
Conclusion
Port scanners are a crucial tool in any network admin's toolkit. They'll help you gain information on the devices that you scan, which will help you better understand their functioning, and therefore, their security.
They'll help you find any open ports and vulnerable systems that might be allowing intrusions into your network, as well as finding places where your infrastructure might be leaking.
Some of the tools above are free or have a free trial. If you're on the fence about getting a port scanner, then just downloading one of them and trying it out for a few weeks can show you the benefits that a port scanner brings. You don't have to take an overly complex, command-line-based tool like Nmap, take one with an intuitive interface!
Did we miss your favorite port scanner? Maybe you'd like to know a bit more about the technology? Let us know in the comments.